Hurricane season is upon us once more. With the weather becoming more extreme year on year, protecting our homes and businesses is a pressing concern. Combined with the current global economic situation, cost-effective hurricane window protection is essential in Atlantic Canada.
In May this year, the Canadian Hurricane Centre delivered a set of grim predictions for 2022's hurricane season. Environment and Climate Change Canada (ECCC) issued a warning that all Canadians should prepare for a tumultuous season. But what does that look like in real terms? And is it affordable right now? We're exploring a single element of hurricane protection today – windows and glass doors.
What are the great ways to protect your windows against hurricanes or storms?
Broken glass can cause untold damage. From physical injury to damaged goods, it is a nightmare that most homeowners would rather avoid. Yet safety glass and storm shutters are often out of budget range and impractical for those who are renting or in temporary accommodation.
You may not want to shell out for these options, yet there is no doubt that they provide significant benefits during the hurricane season.
But these aren't the only hurricane protectors for windows. Window safety film is a cost-effective alternative that offers many of the same benefits as traditional methods but with more flexibility.
N.B. Please don't add boards to your windows! A non-professional board-up can create additional damage if your window does sustain damage! See our related article for more on this topic.
Related content:
Hurricane protection for windows: the dos and don'ts
What are the benefits of safety window film?
Our safety film will prevent damage from occurring to you or your property if your windows break through hurricanes or any other impact (it works great as break-in prevention!). This lightweight film is nearly undetectable to the naked eye and fitted to your existing glass.
If your windows are damaged through flying storm debris, the glass will hold firm in its place. No messy clean-up to worry about, no sharp pieces or collateral damage. Once the storm has passed, you can get your glass replaced swiftly by a professional, and then we will fit a new layer of film.
Hurricane window protection that doesn't break the bank
With any hurricane window protection option, you hope you will never need it, a little like insurance. But, like insurance, the cost can feel unnecessary, even when you know it is the smart choice. Safety window film protects your windows, skylights, glass doors and more in the event of a hurricane, reducing the risk of damage and cutting the costs of restoration should you fall foul of Mother Nature.
Every home has different safety film needs, but in terms of hurricane window protection, you won't find a more cost-effective option that works. We offer free quotes, so find out for yourself by clicking here.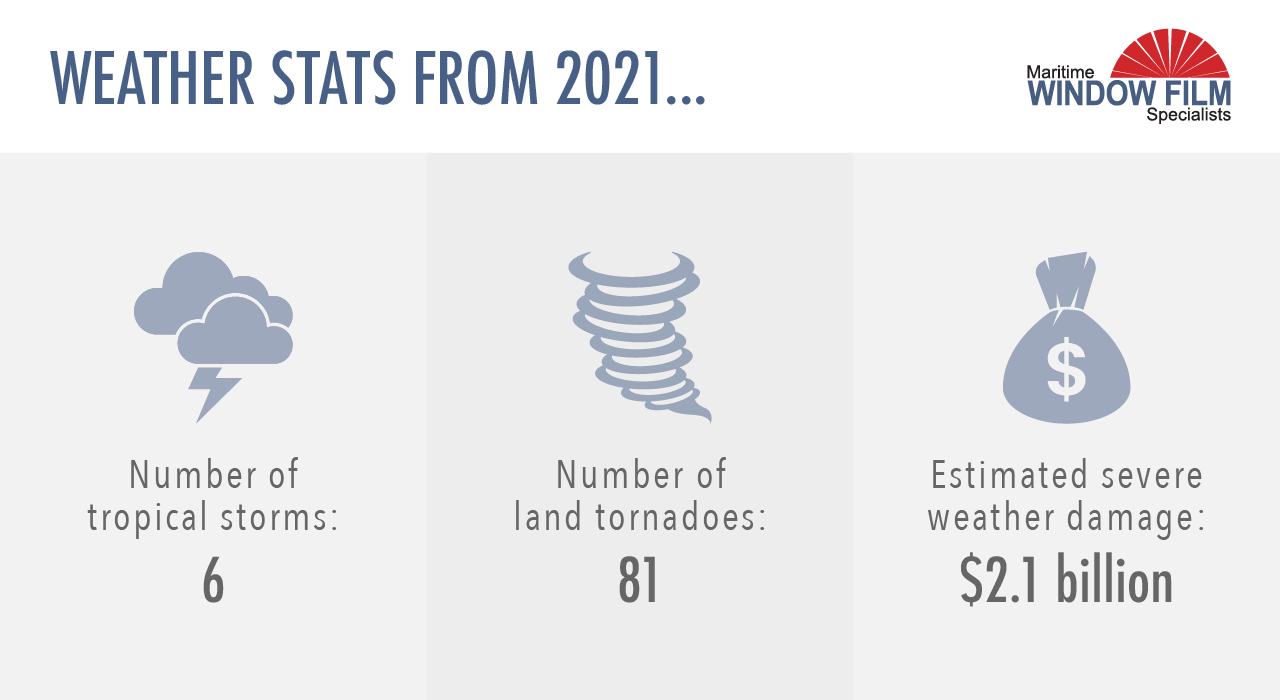 Why Maritime Window Film Specialists?
Maritime Window Film Specialists is a family-owned business with more than 40 years of experience. We know what works and only use top-quality products. Window films have changed a lot since we began, but our dedication to our customers has not. Our work is guaranteed, and our window films are all warranted against peeling, bubbling and colour change.
Discuss security film for hurricane window protection for your home or business.
Think window film; think Maritime Window Film Specialists.