Protect your Investments
These super strong films were specially designed to keep glass from flying in case of accidents or vandalism. They provide a safety factor through the unique adhesive bond to the glass. Even the thinnest of films will form a tough barrier which will help hold shattered glass in place.
Whether it's an intruder trying to break in, a weather problem, or a household accident, security film provides a protective barrier which helps reduce personal injury and property loss.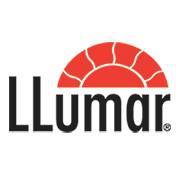 Protects from 'smash & grabs' vandalism and natural disasters
Clear defence against intruders
Available clear or tinted
Protects from fading
Available in your desired level of protection
Our job is to help you choose a window film to suit your needs and provide a safe, clean and professional installation with minimal to no disruption to your daily activities.
Our work is guaranteed and our films are all warranted against peeling, bubbling and colour change.
Most break-ins occur through windows & doors. You can protect your property & valuables by having safety/security film applied to your windows today!
Heavy-duty transparent polyester "SECURITY" film applied to existing glass "excellent protection against break-ins"
This is a photo taken of a business owner's door as he was coming in for work. Although the glass door was shattered from the blow of this large rock, the door was still locked and no entry was gained, the glass and film were replaced the same day.
Our Safety/Security window films are designed to keep glass together in case of forceful or accidental glass breakage due to attempted break-ins, vandalism or natural disasters. It's virtually undetectable once applied.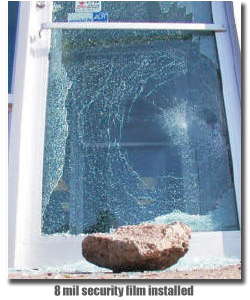 Sûreté / Films de sécurité
Protégez vos investissements
Ces films super résistants ont été spécialement conçus pour empêcher le verre de voler en cas d'accident ou de vandalisme. Ils offrent un facteur de sécurité grâce à la liaison adhésive unique au verre. Même les films les plus fins formeront une barrière résistante qui aidera à maintenir le verre brisé en place.
La plupart des cambriolages se produisent par les fenêtres et les portes. Vous pouvez protéger votre propriété et vos objets de valeur en faisant appliquer un film de sécurité sur vos fenêtres dès aujourd'hui!
Nos films de sécurité pour fenêtres sont conçus pour maintenir le verre ensemble en cas de bris de verre violent ou accidentel dû à des tentatives d'effraction, de vandalisme ou de catastrophes naturelles. Il est pratiquement indétectable une fois appliqué.
Protège contre le vandalisme, cambriolage et les catastrophes naturelles
Défense visible contre les intrus
Disponible clair ou teinté
Protège de la décoloration
Disponible dans le niveau de protection souhaité