Window security film is an effective crime-stopper and a budget-friendly way to increase the safety of your home. This holiday season, leave your home fully protected as you enjoy the festivities with peace of mind.
None of us are anticipating a "normal" holiday season. Households throughout the region will be embracing outdoor festivities and events for their entertainment. We have ample opportunities to enjoy our local area… and there will be ample opportunities for crime as we do so. Unfortunately, many burglaries are committed in the holiday season so let's talk about how window security film can protect your home.
What is Window Security Film?
Window security film is a super-strong film layer that can be applied to the inside of your windows and glass doors. It is virtually undetectable once installed, although you can choose to have it tinted if you would prefer, and was designed to keep glass intact in case of accidental damage or attempted break-ins. It has a unique adhesive bond meaning that even the thinnest of films will form an incredibly tough barrier that will help hold shattered glass in place.
Added Benefits of Window Security Film
We recommend our standard window film for all home and business owners, as it dramatically reduces the effects of UV light, slowing the effects of fading on your belongings from sunlight and protecting your loved ones' skin. Security window film also provides this benefit for no added cost.
Does Window Security Film really work?
Although many apply security window film to protect their homes from storms, it can help prevent burglaries and vandalism too! Most break-ins occur through windows and doors. Security film applied to existing glass surfaces provides excellent protection as it holds the glass in place.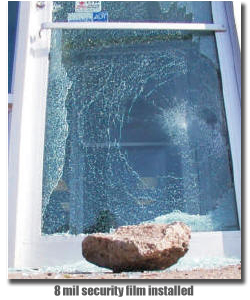 This image shows a business owner's door as he was coming in for work. Although the glass door was shattered from the blow of this large rock, the door was still locked with no entry gained. The glass and film were replaced the same day.
Are you really at risk during the Holiday Season?
During the holiday season, we put our houses on display and then leave them unattended for extended periods during the day. You may expect burglaries to be nighttime events, but the majority happen during daylight hours.
Festivities give criminals a clear indication of when local people are likely to be out, and with gifts and cash in the house, it can be a profitable time of year. We light up our homes, leave parcels on doorsteps, and give a clear indication to the world that we are not home.
Should I get Window Security Film?
Security window film is a quick and efficient solution to your safety concerns. You needn't worry about disruption and mess as it is a clean and tidy product to fit. To find out more about our security film, click here.
Why Maritime Window Film Specialists?
Maritime Window Film Specialists is a family-owned business with more than 40 years of experience. We serve New Brunswick, PEI and Nova Scotia and have a wide array of film and glass solutions to suit every home and business. Window films have changed a lot since we began, but our dedication to providing top-quality products with a smile on our faces has not.
To discuss our security film and get it fitted before Christmas, get in touch with our team.
Think window film; think Maritime Window Film Specialists.