Main Benefits of Bird Deterrent Window Film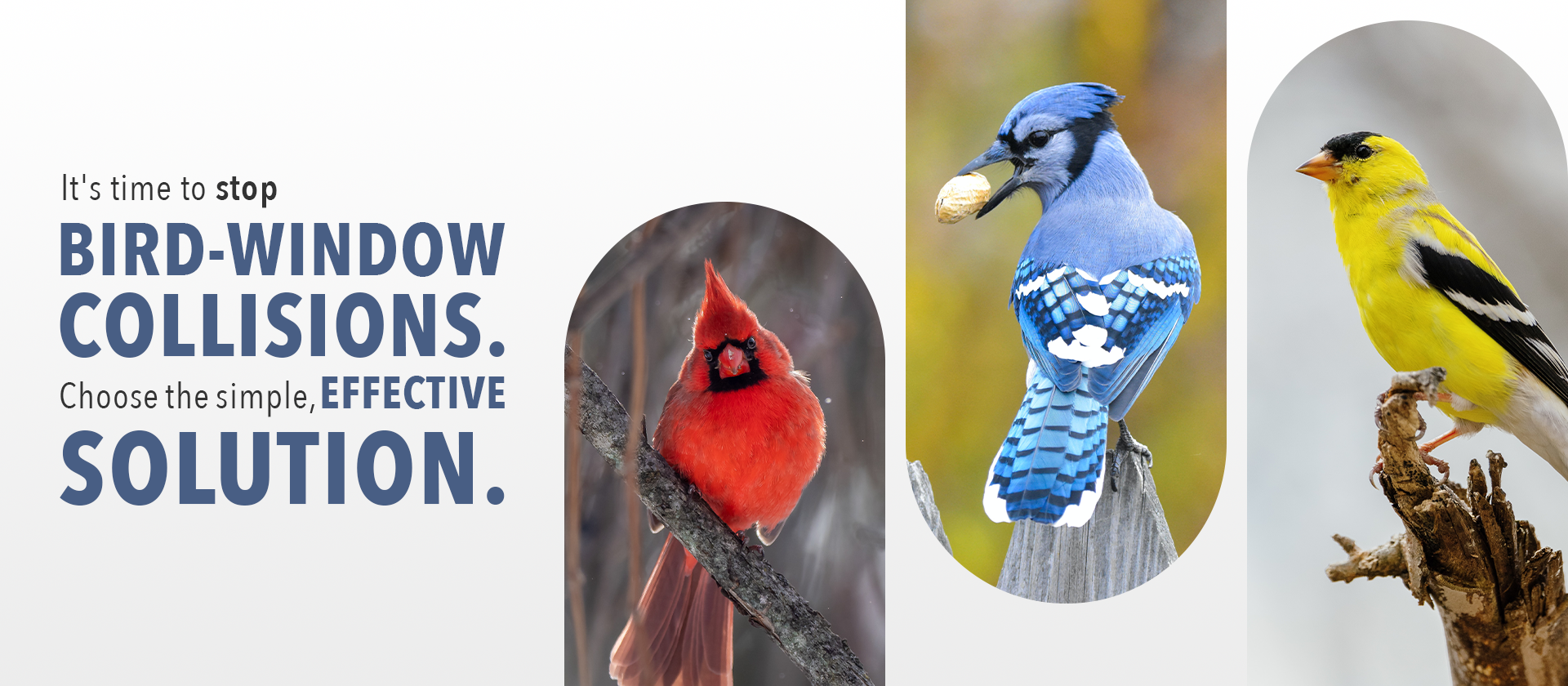 Prevention of bird collisions
If you are concerned about the worrying number of bird collisions with our windows, bird deterrent window film is a cost-effective and environmentally-friendly solution. Our team can install it swiftly to the outside of your home, protecting your windows and giving Mother Nature a helping hand.
Birds are unable to perceive glass and see reflections as a continuation of the landscape. As a result, they can fly straight into your glass, causing themselves immense damage. You may wonder why this isn't a year-round issue. Birds that have spent their lives amongst us adapt to their surroundings; migrating or young birds, both prevalent in Spring, don't have this knowledge and the results can be catastrophic. In Canada, window collisions kill 16 to 42 million birds a year1.
What does bird deterrent window film look like?
Bird deterrent window film has a repeating, simple pattern. Usually, this is made up of small dots, which will be easily ignored by the human eye but will break up the glass to a bird, enabling them to see it for what it is.
Read more about bird strike prevention
Prévention des collisions d'oiseaux
Si vous êtes préoccupés par le nombre inquiétant de collisions d'oiseaux avec nos fenêtres, le film anti-oiseaux pour fenêtre est une solution économique et respectueuse de l'environnement. Notre équipe peut l'installer rapidement à l'extérieur de votre maison, protégeant ainsi vos fenêtres et donnant un coup de main à dame nature.
Les oiseaux sont incapables de percevoir le verre et voient les reflets comme une continuation du paysage. En conséquence, ils peuvent voler directement dans votre verre, causant eux-mêmes d'immenses dégâts. Vous vous demandez peut-être pourquoi ce n'est pas un problème qui dure toute l'année. Les oiseaux qui ont passé leur vie parmi nous s'adaptent à leur environnement; les oiseaux migrateurs ou les jeunes oiseaux, tous deux répandus au printemps, n'ont pas cette connaissance et les résultats peuvent être catastrophiques. Au Canada, les collisions avec les fenêtres tuent de 16 à 42 millions d'oiseaux par année.
Le film de fenêtre anti-oiseaux a un motif simple et répétitif. Habituellement, cela se compose de petits points, qui seront facilement ignorés par l'œil humain mais signalent le verre à un oiseau, leur permettant de le voir pour ce qu'il est.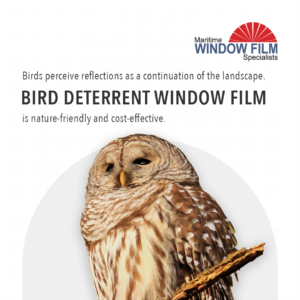 At Maritime Window Film Specialists, we know window film and we love talking about it!
No matter what the size or scale of your next project is, we can ensure you are exploring all available options for your space to save costs, increase comfort & security, and add custom design.
Toll-free: 1-800-667-8468 (Maritimes)
Tel: (506) 855-0855
Email: info@maritimewindowfilm.ca
Maritime Window Film Specialists
Head Office: Moncton, New Brunswick • Nova Scotia Office: Halifax, Nova Scotia