Fall is here, and along with it comes a slew of family celebrations – Halloween, Thanksgiving, Christmas, and New Year. If you are looking for some ways to create a seasonal window display in your home or business that will really shine, window film may be your secret weapon!
For homes
As a nation, we love to go all-out on our favourite holidays. From garden ornaments to plentiful decorations, nothing makes a home feel special like some seasonal additions. A home window display can be easy to set up (although please be careful if you're lighting candles!) and is on many a Canadian homeowner's list of ways to set the mood. Here are some tips on creating the perfect seasonal window display for your home this holiday season.
Ornamental items
It can be highly effective to pick up some choice ornaments for each season that can sit on your windowsill. They will delight your family while curtains are open and give passers-by a smile when they are closed. Make sure to pack away your ornaments carefully each year so you can use them time and time again.
Seasonal decorations
Whether it's tinsel at Christmas or pumpkin paper chains at Halloween, a string of decorations running along the windowsill or pinned across a window can be a delightful touch to any seasonal window display.
Glare-reducing window film
Winter sun can quickly turn a seasonal display into something you squint at. Window film is a cost-effective layer that is professionally installed, reducing the glare from your glass. Less glare means you can keep your curtains open for longer without sunbeams on your TV screen. Enjoy your festive windows for longer and let passers-by enjoy it too!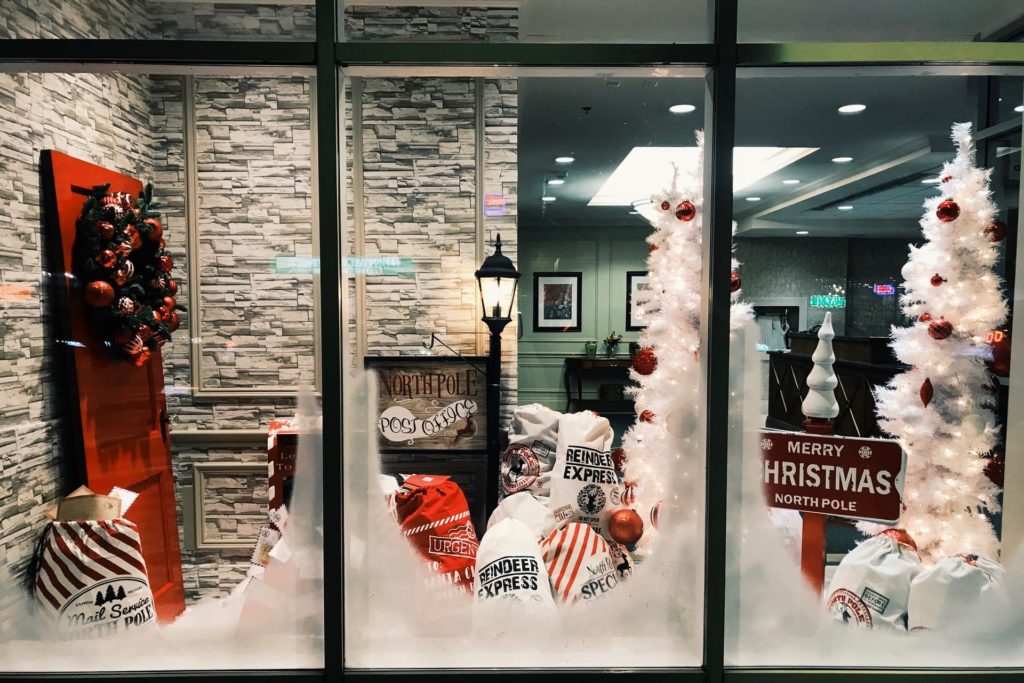 For Businesses
Carefully chosen stock
Any seasonal display should include some of your most attractive items, but they need to be chosen carefully for this purpose. We have a guide on what to include and not include here.
Seasonal lighting
You want your stock to shine, quite literally! Choose bright lighting and additional seasonal lighting to highlight your window display and the items you are promoting.
Bespoke window film
For businesses, we highly recommend our UV film to dramatically decrease the effect of fading on your goods and store. The holiday retail season is the primary profit-making time for many businesses. Making every effort to impress can help your business grab attention from the crowds. Window film can be branded to give a cohesive, professional feel to your business too. Your stock will look its best and your windows will grab attention year-round.
Why Maritime Window Film Specialists?
Maritime Window Film Specialists is a family-owned business with more than 40 years of experience. We serve New Brunswick, PEI, and Nova Scotia and have a wide array of film and glass solutions to suit every home and business. Window films have changed a lot since we began, but our dedication to providing top-quality products with a smile on our faces has not.
To discuss how window film can enhance your windows, please get in touch with our team.
Think window film; think Maritime Window Film Specialists.