2020 may be drawing to a close but COVID-19 certainly isn't. Unfortunately, it looks like the worldwide pandemic is here to stay, at least in the short-term. As a business owner, it is your responsibility to ensure customers and staff members stay safe when on your premises – COVID-19 signage helps get your message across.
We hope your business has been able to reopen but it's unlikely to have done so under the same terms it had previously. Communicating clearly and effectively is an essential part of the process, and COVID-19 signage is a great way to remind people of what they need to do.
Show people you care
It may sound corny but showcasing what your business is doing to keep people safe will help customers and staff relax while going about their business. People want to feel safe; this can be accomplished in many ways such as keeping your premises pristine, ensuring staff are wearing appropriate PPE and showing customers and staff that you have considered the appropriate rules. In more conventional times, declaring restrictions would put your customers on edge, but during COVID, a clear explanation of what is needed will help people feel like you have considered their welfare.
Explain rules specific to your business
The rules and restrictions surrounding COVID-safe behaviors are varied and often sector-specific. If your business operates in a sector that requires close contact, involves working in someone's home or anything else that involves specific guidance, you must convey this to customers in a way that will resonate with them. A detailed COVID policy is a necessary step but get your key points across quickly and easily with bright graphics and symbols.
Show you are taking it seriously
You could stick up a sheet of A4 with a handwritten note, but people need to know that you have reacted to the situation in a professional way that is in keeping with your business. A professional sign that incorporates your branding is a shorthand way to show how seriously and responsibly you are reacting to the situation.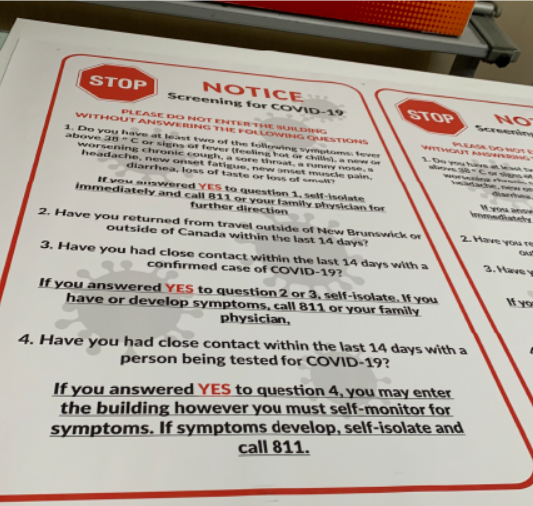 COVID signage in Canada
Many provinces have created small business grants that cover any expenses you have incurred due to modifications for COVID. These can include our signage. While we can't guarantee your costs will be covered, we are happy to provide you with any documentation you require to submit a claim.
Why Maritime Window Film Specialists?
Maritime Window Film Specialists is a family-owned business with more than 40 years of experience. We serve New Brunswick, PEI and Nova Scotia and have a wide array of safety, privacy and solar film solutions to suit every home and business. Our team are highly experienced in creating effective and customised safety signage, whatever your business needs.
To discuss COVID-19 signage for your business, get in touch with our team.
Think window film; think Maritime Window Film Specialists.