Abundant glass at the front of your home can bring in plentiful natural sunlight but, it can come at a cost to your privacy. Are you wondering how to create front door privacy? If you are feeling a little exposed, read on to discover a quick and straightforward way to make your home feel a little more private.
Glass panes are a common feature adjacent to front doors, and most front doors contain additional glass. There is a fine line between welcoming the outside world and degrading your privacy. Traditionally, frosted glass was the solution. However, if it wasn't present when you moved into your property, it can be a hefty price to pay for a little privacy.
Curtains
Curtains may seem an old-fashioned option but, they have helped many homeowners bring back a sense of privacy. Small, bespoke curtains can cover windows next to the front door or even be attached to the back of the front door itself.
The upsides are that it gives you a chance to be creative with your décor and allows you to open and shut the curtains as needed, opening them when expecting guests, for example. However, the installation of the curtains may be disfiguring to your home.
Window film
If you are looking for a solution that won't leave a permanent mark on your home, frosted window film is the solution. Much cheaper than frosted glass, window film is installed by an expert team to the inside of your existing windows. It allows natural light in and blocks damaging UV rays as well.
The upsides are the ease of installation (no mess and quick for our team to do!) and it can be bespoke. If you want to cover some glass in full frost and some with a lesser degree, we can do that! And you don't have to stop there. We can create stunning designs to your specifications, making you the envy of all your neighbours!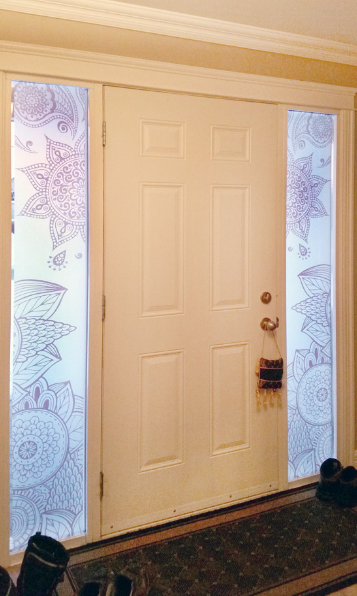 Privacy, your way
The beauty of window film is its versatility. It's cheaper than frosted glass, tailored to your needs, and provides additional benefits to your home. Maritime Window Film Specialists is a family-owned business with more than 40 years of experience, serving New Brunswick, PEI, and Nova Scotia. Window films have changed a lot since we began, but our dedication to providing top-quality products with a smile on our faces has not.
To see examples of our frosted window film in residential homes, click here.
Get back your privacy and do it with style. Discuss our residential window film options today.
Think window film; think Maritime Window Film Specialists.