Commercial window frosting is nothing new and yet it remains a very popular product. Frosted window film is considerably more cost-effective and versatile than frosted glass and can provide the same aesthetic benefits.
Window frosting can be used in a few different ways and applied to any glass surface. Used effectively, it can greatly enhance the image of your business, whether that's a physical office or even a work-from-home space.
Privacy where you need it most
One of the more traditional ways to use window frosting for your business is to create privacy. Clever use around meeting rooms (see image above) can make clients and staff feel like the business is more premium and upmarket than if they were either on display or, even worse, crammed into a dark room.
Using frosted window film in this way can transform a space immediately. Privacy in an instant without losing natural lighting.
You can use full-on walls of frosting or choose a frosted design using geometric shapes or branded imagery. Consider the space in question and the amount of privacy needed to finalize your design.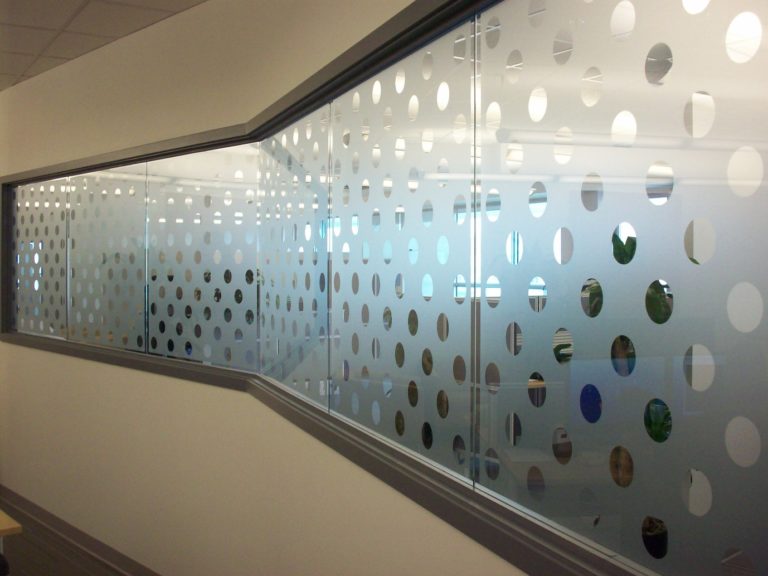 Premium branding for a small price tag
Frosted window film really shines when you go for a bespoke option. Frosting your business name, logo, or tagline on a glass surface will give the appearance of being an established, polished brand… even if you're just starting out!
These bespoke designs are very flexible to your needs. You can have your design printed as a frosted design on clear film or have your design cut out of the frosting (like the circles in the image above).
Work from home branding
As we all know, working from home has become the norm for many Canadians. If you have started a business from home, you may not need an external office. You can still use commercial frosted film to make your place of work stand out.
Zoom has become part of most Atlantic Canadian's week. Instead of cringing when you see what's behind you, why not make a dedicated Zoom space to impress potential customers from your home. Frosted window film can be added to any glass surface so why not liven up a window or a patio door in your home office? Displaying your brand in such a way gets a firm message across – working from home does not affect the professionalism of your business.
Why commercial window frosting elevates your image
Displaying a cohesive, branded aesthetic can make any space feel more intentional and exclusive. Even if you would prefer something more traditional for privacy, having it installed shows that you considered the needs of your clients.
Originally, privacy and branded designs were created using etched glass. These designs, while stunning, were expensive and didn't allow for any flexibility. Now, if your branding changes, so can your film. If you repurpose a room into a meeting space, you can add frosted film, transforming it into a more confidential setting.
Frosted window film is an affordable way to put those finishing touches on an office building, a storefront, or a home office. And best of all, it is fitted cleanly by our team in a day. No mess, no fuss, instant transformation.
Why Maritime Window Film Specialists?
Maritime Window Film Specialists is a family-owned business with more than 40 years of experience. We serve New Brunswick, PEI and Nova Scotia and have a wide array of film solutions to suit every home and business. Window films have changed a lot since we began, but our dedication to providing top-quality products with a smile on our faces has not.
To see examples of our frosted window film logos, click here.
To see examples of our commercial frosted film windows and designs, click here.
To discuss your frosted film and other window film options for your business, get in touch with our team.
Think window film; think Maritime Window Film Specialists
Related content:
Benefits of commercial frosted window film